As a pet parent, you want to give your pet the best life possible. This includes feeding them their favorite foods, taking them out for adventures and long walks, and giving them constant attention.
Unfortunately, they can't be by your side 24/7. You have things you need to do, like going to work, keeping up with doctor appointments, and hanging out with friends and family.
Thankfully, with the help of GULI GULI, a smart pet brand, you can now give your pet your love anytime, anywhere with the Smart Companion Robot.
Technology has enabled us to keep our pets happy and entertained in ways we could never have imagined before. Now, with the introduction of the Smart Companion Robot, you can interact with your pet in a whole new way.
Smart Companion Robot Features
The Smart Companion Robot has revolutionized the way we can stay in constant communication with our pets thanks to its ability to be remotely controlled with the GULIGULI mobile app and all of the features that come along with it.
The robot has a built-in 1080P HD camera with night vision capabilities to see your pet in crystal clear quality no matter what time of day it is. But that's not all; with the help of the GULIGULI app, you can take pictures and record videos of any fun you may be having with your pet. So you never have to worry about missing out on those candid moments with your pet.
With the 2-way audio function, you can talk to your pet throughout the day and vice-versa to help relax your pet when they are feeling anxious. It's a great way to not only check in on how they are doing with a familiar voice but also deter any bad behaviors, such as chewing or scratching up furniture.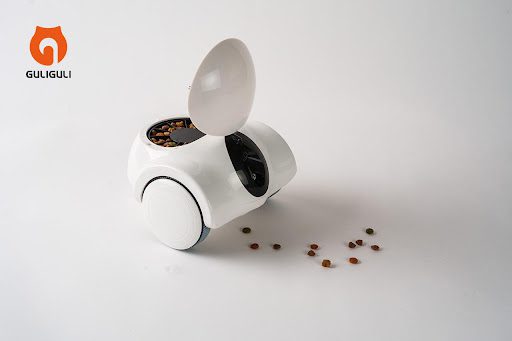 And for the moments your pet should be rewarded, the Smart Companion Robot includes a treat dispenser with 12 separate cartridges, which is really nice for those extended periods of time you'll be away from your pet. Don't worry, the cartridges are big enough to handle treat amounts for different-sized dogs, from Pomeranians to Labs.
Keeping in mind that people have pets of varying sizes, the Smart Companion Robot was designed to be able to handle rough play with pets. The wheels were made to be exceptionally large not only to prevent the product from being overturned by rowdy pets, but also to enable it to move freely across a variety of surfaces found within the home, such as thick carpets, and to navigate over any obstacles that were lying on the ground, such as clothes or towels. ensuring that nothing will prevent you from playing with your pet and having a good time.
But that's not it; you want to know the best part about it all? There is no pesky subscription that comes with the Smart Companion Robot. No additional costs, no hidden fees, only unlimited free, fun times with your pet.