Outon is a brand that is lighting the way more and more as global industry leaders for beautifully stylish and innovative home and office lighting solutions.
Their S1 Smart Torchiere Floor Lamp is an exciting edition to their well-developed and varied offerings. Between their chandelier light, shelf lamp, floor lamp, and string light collections, they have all of our lightning needs more than covered.
What stands out from the pack is definitely the smart features of the S1 Torchiere floor lamp. As energy efficient and smart solutions are growing in popularity for various home functionality – locks, cameras, temperature, security, etc. – it's refreshing to see lightning design added to the options.
Overview: What can the S1 do?
The S1 boasts an impressive array of features. Here's a general rundown.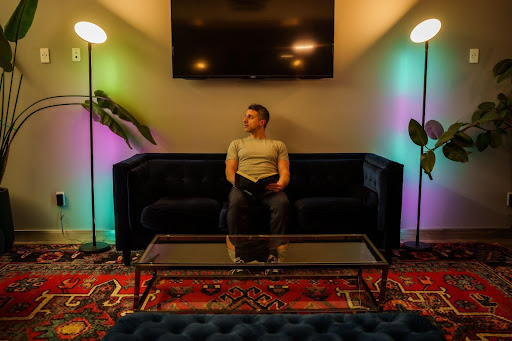 The RBGICWW LED technology let's you shift play between red, green, blue, white, and warm white for impressive color mixing. This all leads to a whopping 16 million color options and allows it to create rainbow-like lighting effects. The remote control and the Outon app allow you to control your light the way you want. In addition there is a voice control feature – giving you even more flexibility. The uplight outputs with 3000 lumens of brightness with lighting temperatures ranging from 2700K to 6500K making the S1 is also perfect for daily use. Music mode is a fun feature that makes the LED section respond to your music and atmospheric noise – great for dance parties. Scene mode also offers a variety of lighting scenes the lamp will scroll through to create different unique lighting environments. The smart timer also lets you program your light levels – so if you doze off or want to wake up to a particularly inspiring light level, the S1 works with your daily habits rather than against them. Overall the physical design is elegant and the LED foundation makes for an energy efficient lighting solution that will last for years.
Why the S1 Stands Out from the Pack
The S1 gives you an unprecedented amount of control over your lighting environment.
There are three main modes of accessing the device – the remote, the app, and the voice control.
The S1 voice control let you change the colors and effects of the lamp using Alexa or Google Assistant. This feature is incredibly attractive. Maybe you want to stay in bed instead of getting up to turn on the light? Maybe you want to impress your new guests as you enter your space?
As you shift from work mode to relaxation mode, just call out to Alexa or Google and your Outon will respond with you favorite lighting pattern. The future is here!
The range of controls is impressive. If you prefer the precision of scaling through different color gradients, you can use the app. If you want to keep it simple, then the remote is a good straightforward option.
With all these options, the Outon S1 gives you the freedom!