Every January, CES—the Consumer Electronics Show—provides a glimpse into the consumer products that will come to market in the weeks and months ahead: TVs, cars, and even home appliances.
The deluge of new-product announcements at CES 2023 reveals trends about how manufacturers want to impact consumers' lives through the products they bring into their homes. One of the biggest trends revolves around devices to manage home energy use, such as backup battery packs and systems for intelligently managing the load of appliances, solar panels, EV chargers, and more.
But that's not all. We're also seeing innovative appliances, a host of smart home devices that support the Matter interoperability standard, and products geared toward improving the infrastructure of your home, from AC compressors to pipes.
Most of the products announced at CES 2023 lack pricing information and won't go on sale until later this year. It's also possible that some won't be released at all. But for the moment, these announcements give us a fascinating glimpse into the future of our homes.
New Ways to Manage Energy in Your Home and Save Money
With the growing demand for home solar panels, electric vehicles, and energy-efficient appliances like heat pumps, it's not surprising that companies are now focusing on managing these complex energy loads in the home with new products.
Schneider Electric is releasing the Schneider Home energy platform, which uses its smart home electrical panel, home backup battery pack, EV charger, and outlets and switches to monitor energy usage, intelligently manage backup power during an outage, and even connect to utility programs for savings on your electricity bill.
The Samsung SmartThings Energy platform similarly saves energy by intelligently managing usage of connected appliances and other smart devices, earning it the distinction of being the first Energy Star-certified Smart Home Energy Management System. Samsung is also involved in the Home Connectivity Alliance, an industry consortium that is working on solutions to manage energy usage across appliances made by different brands. The HCA demonstrated how such an integration could significantly reduce load on the electrical grid during times of stress by adjusting HVAC systems, water heaters, refrigerators, and more.
Finally, many companies, such as Anker, EcoFlow, and Geneverse (shown below) are competing to offer portable backup batteries for the home that could replace noisy and polluting gas generators.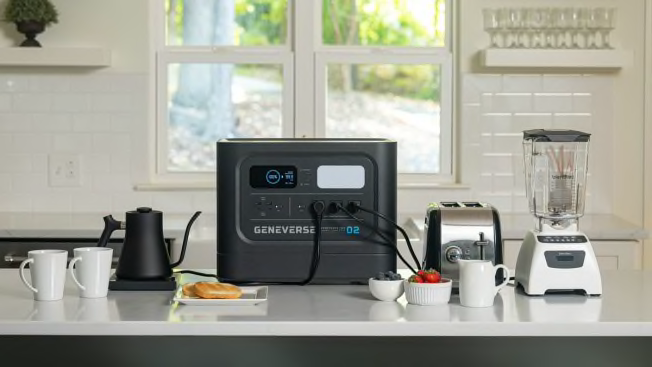 Innovative New Appliances
This year, you can expect to see new takes on both large and small appliances. LG and Samsung continue their efforts to turn the refrigerator into a statement piece in the kitchen. The LG MoodUp refrigerator (shown below) features LED light panels that can change colors and react to music, while the Samsung Bespoke Family Hub Plus refrigerator features swappable panels available in a range of colors, as well as a massive 32-inch touchscreen that can be used to watch TV, order groceries, and more.
But the most unusual refrigerator coming to market is the EcoFlow Glacier. It looks like a futuristic cooler, but it's actually a battery-powered refrigerator equipped with fresh-food and freezer compartments, plus a built-in icemaker. EcoFlow says it can last about 24 hours when running off its battery.
Another portable appliance coming to market is the Cruz BlenderCap, a battery-powered blender built into the cap of a water bottle. That means you can load it up with ingredients at home and blend it while you're away, whether for a post-gym protein shake or a frozen margarita on the beach.
Finally, startup Typhur is putting a new spin on sous-vide cooking with its Sous Vide Station. Rather than simply offering an immersion circulator that you need to attach to a pot, the Typhur Sous Vide Station is an all-in-one solution with an immersion circulator, water tub, vacuum sealer, and touchscreen for controls and guided recipe videos.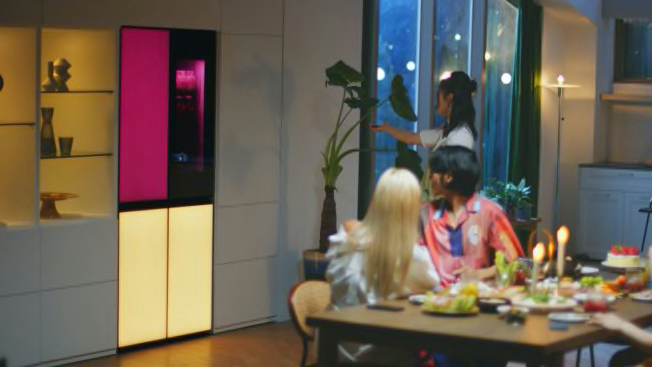 The Smart Home Will Finally "Matter" This Year
The Matter smart home standard has been in the works for almost three years, but it's finally here. The standard aims to make smart home devices actually able to talk to each other, alleviating consumer confusion about which devices work with what.
This year, you can expect a ton of new Matter-certified products to hit the market. Companies like Nanoleaf and TP-Link are launching new lightbulbs, light switches, plugs, power strips, and more. To capitalize on the new standard, Samsung is even releasing a wireless phone charger called the SmartThings Station that doubles as a smart home hub with support for Matter and Thread wireless devices.
But perhaps the biggest benefit of the standard is that it opens the door for new ways of controlling all the products in your home. Case in point is a startup called Mui that is making an unusual wood control board called the Mui Board (shown below). It relies on small, touch-sensitive LED lights to artfully display information and controls for your home's various devices.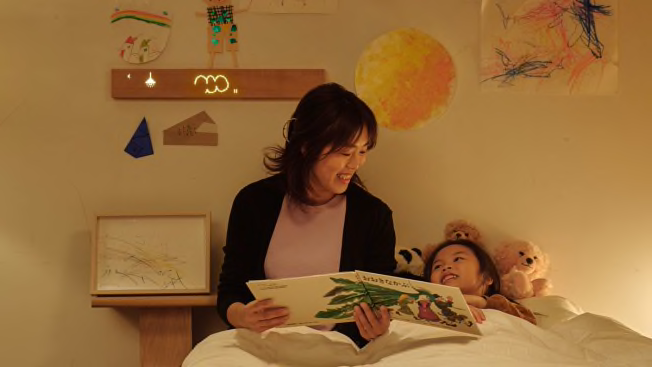 Improving the Infrastructure of the Home
A number of companies exhibiting at CES are working to improve things we often overlook or take for granted in our homes, such as ceiling light fixtures and water pipes. SkyX has designed a smart plug-in mount for ceiling light fixtures. It makes it easier to mount a new light fixture and adds a host of new features, such as voice and app controls, to your otherwise "dumb" lights. Related to light fixtures, Securam and Swidget are expanding the utility of wall switches and outlets. Securam is releasing switches that double as security system motion sensors, while Swidget offers modular wall switches and sockets that can be expanded with motion sensors, night lights, and even a security camera.
The new Moen Smart Water Network (shown below) utilizes the company's many water-related products (such as its shutoff valves, smart faucets, sump pump monitor, and new sprinkler controller) to measure water usage and even prevent frozen pipes. The system can detect that water in a pipe is starting to freeze and automatically shut off the home's water line and open a faucet to drain the pipe.
Like Moen, Trane is also looking to prevent breakdowns and failures in home systems with its new Trane Link AC condensers. These new condensers can detect that a part might be failing and alert your HVAC dealer to come fix it before it actually breaks.
A Cleaner Home With New Wet/Dry and Robotic Vacuums
A number of companies are creating new robotic, stick, and upright vacuums that can also mop floors. Companies are marketing the stick and upright models as wet/dry vacuums, but don't confuse them with a shop vacuum—they aren't made for vacuuming up standing water.
Roborock is bringing improved mopping and stronger suction to its latest bots (shown below), while its new Dyad Pro cordless wet/dry vacuum offers 17,00Pa of suction and a self-cleaning base station. Not to be outdone, Tineco is releasing its own wet/dry stick vacuum and upright vacuum, as well as a pet-oriented stick vacuum specifically designed to pick up dander from shedding cats and dogs.
Finally, tech manufacturer TP-Link is entering the vacuum market for the first time, offering an array of robotic models, including a robotic vacuum with mopping capabilities for just $250.