Outon illuminated the CES show floor with their sleek S1 Smart Torchiere Floor Lamp. This stylish, minimalist-designed lamp can act as both traditional room lighting and a vibrant mood light to set any atmosphere.
Outon's innovative solution not only fills rooms with the light they need but adds a unique ambiance that has never been seen before. Customers now have the option of customizing their mood lighting in practical yet fun ways – no more bulky stand-alone units!
Outon has been making waves in the tech world with their latest invention – the Smart Torchiere Floor Lamp. Now, you can light up any room in your home and even control it remotely with your smartphone!
The latest trend of smart lighting
The Outon S1 – Smart Torchiere Floor Lamp brings the wow factor with its customizable 16 million light colors, along a vertical column of tranquil blues to dazzling rainbows. Gain even more control over brightness and savings with its powerful 3000-lumen white LED up-lighting, adjustable via voice commands or smart technology timer options. Let your creativity come alive in real life!
Transform your space into an immersive theater with Outon S1's Music Mode. Let its adjustable audio interaction sensitivity help you create the atmosphere of your choosing and bring versatility to film-viewing or gaming sessions. Plus, voice controls that work with Alexa or Google Assistant makes it easy as ever!
What is OUTON doing? What's new?
Outon is a global leader in providing elegant lighting solutions to customers around the world. Every year, more than 300K of its groundbreaking products are sold far and wide – all while donating 0.1% of its net profits toward sustainability initiatives! They create light fixtures that emphasize energy efficiency and craftsmanship at every step creating better living environments with less environmental impact – impressive stuff indeed!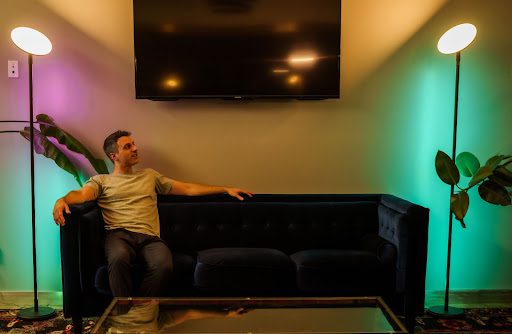 Bold color lighting effects with Outon
The Outon S1 redefines the classic floor lamp with its 16-million color RGBICWW lighting strip. Melding functionality and style, the sleek black exterior houses a vibrant light panel inside that can be tailored to create any atmosphere or tempo desired. This powerful smart technology allows for self-adjustment based on time of day, sound levels, and home activity – giving you complete control over your personal living space!
The Outon S1 Torchiere Lamp is the perfect addition to any room. With up to 3,000 lumens of adjustable white light and the advanced LED bulb technology offering a range between 2700K-6500K, this dimmable lamp perfectly matches with all other lamps in the area while being able to remember individual settings with its built-in memory feature – eliminating the need to adjust each time you use it! Plus, users can conveniently fine-tune their settings using our app.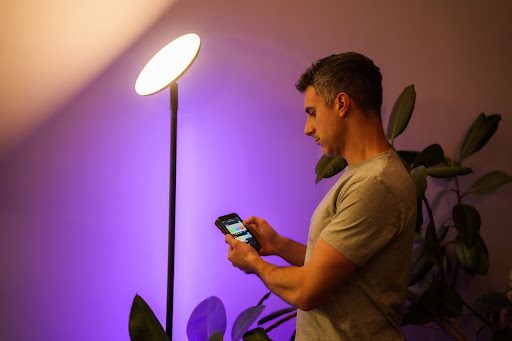 Get ready to light up your life with the Outon S1 smart torchiere floor lamp! It's easy and convenient to set up, control and customize with your iOS or Android Smart Life app. Plus, you can use Alexa or Google Assistant for complete voice-controlled convenience. And IFTTT integration ensures a totally integrated experience – just like the magic!