The maker of smart locks announced at CES Show 2023 the launch of their new smart in-wall light switches and dimmers for smart homes.
Securam is a manufacturer of smart security devices like smart locks, smart safes, and even finger vein door locks. At the CES Show this year, the company added new smart home devices, a smart in-wall switch and dimmer, which work on a Wi-Fi connection (2.4 GHz). These new smart in-wall light switches and dimmers come with features not normally found in smart switches. Here is a closer look at these new smart devices.
The company's new smart switches help people automate aspects of their homes for a more convenient and hands-free lifestyle. With the help of smart Wi-Fi based on/off the light switch and dimmer, users have peace of mind knowing that their home is not only protected but an ambiance or mood can be set or created for any occasion with its dimming capabilities.
Securam Smart Light Features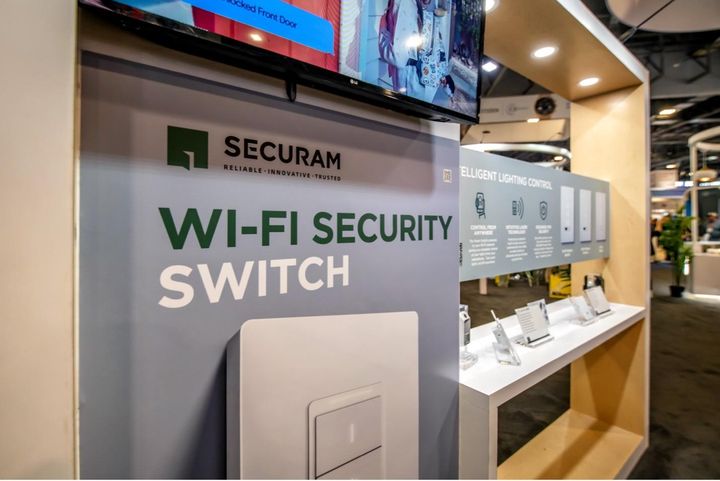 Securam smart in-wall light switches and dimmers are unlike traditional wall switches. They deliver a variety of customizable and robust features to help create a safe and secure home. These features include the following:
Motion Detection
Unlike traditional automatic notion-sensing wall switches, Securam doesn't use low-cost IR sensors. Instead, the company utilizes a highly accurate laser motion detection sensor that can connect with the rest of the home via an internet connection.
By combining light control and motion detection into one non-obtrusive product, Securam has found a way to replace traditional wall switches with a solution that offers more protection and home control for an added layer of convenience and safety.
Customizable Security
With the help of the Securam Guard mobile app, customers can set up, configure, customize and control their smart security switches to fit their specific needs. In seconds, users can fortify their homes with unique, programmable scenes that can decide how many lights turn on and off when entering or exiting a room, and if you have other Securam security devices, like smart locks, you can pair them together for a more seamless smart home security system.
For these users who find the Securam Guard app a bit overwhelming, you can always program settings through the switch itself for your convenience.
Finding the Perfect Light Setting
Securam has found a way to improve upon traditional dimming features offered by other smart switches. By adding the ability t to select the different types of bulbs used in your house, you can fine-tune your lighting experience to better accommodate dimming and fade on/off controls no matter your bulb type.
Summary
At the CES Show this year, GearBrain got a chance to see these new smart in-wall switches. We will be testing them in the near future, so be on the lookout for our review. In the interim, if you are looking to turn your home into a smart home that offers more security, comfort, and energy efficiency, Securam Smart Security Wall Switches are a good choice. And if want to learn more about Securam and its vast line of security solutions, you can visit the company site.
And if you want to see what other devices are compatible with Securam smart security devices, use our product find engine for smart devices. It's free and easy to use. And you can easily store product manuals, set up guides and warranties for free.